When you want to find a title company, you owe it to yourself to insist on the best!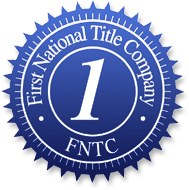 Real estate transactions are complex. In fact, for most people, a real estate transaction will likely be the most complex financial transaction in their lives. Every transaction depends on the disclosure of a lot of detailed information gathered in a very methodical and painstaking process, and you owe it to yourself to make an informed decision when trying to find a title company to lead you through the process.
There are many title companies in Arkansas but only First National Title Company has the size, the experience, and the independence to assure you that you're receiving the most professional and unbiased service. Because FNTC is independently owned and locally operated, we have no financial ties to real estate brokers, agents, or lenders. That means we work for you and will leave no stone unturned to make sure your transaction contains no unwelcome surprises.
FNTC was formed in June of 1997 and has since grown into a highly experienced team of nearly 170 real estate closing professionals, all of whom are ready, willing and anxious to assist you in their respective area of discipline. Furthermore, in order to assist you in finding the best title insurance policy to protect your investment, First National Title Company is an agent for First American Title Insurance Company, Chicago Title Insurance Company, Commonwealth Land and Title Insurance Company, and Fidelity National Title Insurance Company.
Our team has hundreds of years of combined experience in the title business, and we close all types of real estate transactions as promptly, professionally and accurately as possible. We provide thorough title examinations and closing services for all real estate transactions, and no matter where you are in Arkansas, there's a FNTC location to serve you!
When you need the services of a professional closing company for your real estate transaction, don't leave anything to chance. contact us online at this link or contact one of our 16 conveniently located branch offices listed at the bottom of this page.