Wade McDougal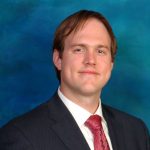 Wade McDougal – Regional Vice President – NWA – Attorney At Law
Wade earned his undergraduate B.A. Summa Cum Laude from the University of Arkansas and earned his Juris Doctorate Magna Cum Laude from the University Of Arkansas School Of Law.
During law school, Wade was selected, wrote for, and served as an Editor of the Arkansas Law Review, participated on the Board of Advocates, and was invited to the W.B. Putnam Inns of Court. He is a licensed attorney, member of both the Arkansas and American Bar Associations, and a member of the American Bar Association's Section of Real Property, Trust and Estate Law.
Prior to joining First National Title Company, Wade worked as the Distribution and Logistics Manager for the Ozark Beer Company, joining the company in its infancy and helping oversee its growth to statewide distribution.